Children's Christmas Toy Appeal
It was decided at the November Executive Council meeting for a toy appeal to be organised by the FTMTA for the benefit of an Irish children's charity this Christmas. The opportunity to donate was communicated to all FTMTA members and we are delighted with the generosity and enthusiasm shown by so many  regarding this appeal.
The Appeal
With an accumulated value of over €3,000, we are overwhelmed with the number of toys that have been delivered to the FTMTA Office over the past two weeks. We would like to say a special thank you to all those who have donated to this appeal, namely;
Donegal Tractors

Templetuohy Farm Machinery

Donohoe Agri

Whelan's Garage

Kubota UK

Cooney Furlong

Cork Farm Machinery

Farm Power

Meath Farm Machinery

Delaney Commercials

Poettinger

Kelly's of Borris

Nunan Farm Machinery

Cross Agricultural Engineering

Quigley's Garage

Alan Douglas Farm Machinery

Breen Farm Machinery

McCarthy Plant & Agri Sales
An array of toys were donated suitable for the children aged 2 to 17, with an even mixture of girls and boys toys.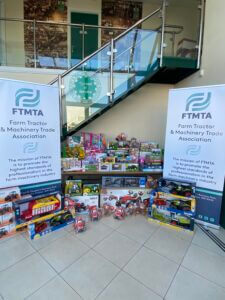 The Charity
Our chosen charity is Barretstown Children's Charity, based in Ballymore Eustace, Co. Kildare. Barretstown offers free, specially designed camps and programmes for children and their families living with a serious illness like cancer – supported behind the scenes by 24 hour on site medical and nursing care, as well as virtual, school and hospital outreach programmes for all those who need them. They give families a chance to unwind, destress and enjoy quality family-time together in a fun, safe and relaxing environment. Since opening their gates in 1994, they've been there for over 70,000 children and their families.
You can learn more about the various activities and camps that Barretstown run and organised at:  www.barretstown.org
On Wednesday, the 21st of December, the toys were delivered and presented to Barretstown by the Executive Director of the Association, Mr. Michael Farrelly, and the President of the FTMTA, Mr. Diarmuid Claridge. The staff at Barretstown were delighted with the generosity shown by our members.
Barretstown relies heavily on charitable donations to fund their various activities and camps for children living with serious illnesses.  For those of you who did not get a chance to participate in the toy appeal, you can still donate to Barretstown by clicking on this link. 
Thanks again to our members for their support with this initiative.